Posted: 07 Aug 15
Edited: 08 Aug 15
Abstract
The goal of this study was to examine the impact of particular tampers on espresso extraction. Our main objective metric was TDS assessed via two refractometers (VST LAB Coffee III and Atago PAL-COFFEE). Four different tampers were used (Pullman BigStep, Pergtamp, Eazytamp, and La Marzocco), with 10 shots per tamper. A significant difference was found between tampers, with the La Marzocco tamper yielding significantly lower TDS and extraction yield. No difference was found between the TDS measurements of the VST and Atago.
Bottom line
Based on the tampers we tested, only the La Marzocco tamper had a significant (albeit, negative) impact on TDS and extraction yield. All others were statistically not different. Measurements between the VST and Atago were also statistically not different.
Disclosures
We have no vested interest in any of the products being used for this experiment.
Authors
Jeremy and Joe
Introduction
Espresso extraction consists of driving hot water through a packed bed of ground coffee with a pressure gradient. Many variables can affect this process such as temperature of the water,  pressure by which water is applied to the bed of coffee, extraction time, and flow rate. The process of tamping the bed of coffee in a portafilter, it is thought, allows the operator to impact the permeability characteristics of the coffee. As permeability relates to particle size distribution and packing structure, tamping may allow the opportunity to influence the latter. How hard one tamps affects the coffee bed's bulk density. Our previous post demonstrated, within a range of 5-20 kg applied tamping force, there was no discernible difference in TDS or brewing time. However, within that force range, there may be other opportunities for tamping to impact mass transfer, as bed bulk density has been shown to have a significant impact on overall permeability (King, 2008; Navarini et al., 2009) and dynamics such as bed tortuosity and swelling of the cellulose matrix, as described by Mateus & Rouvet (2007), may occur.
The two main hypotheses were 1) the tamper used would have a significant effect on TDS and 2) the Atago PAL-COFFEE and VST LAB III would give significantly different TDS readings for the same sample of coffee.
Methods
The coffee used for the experiment was MC Euro Classic Espresso Blend. Coffee was rested for 10 days before use. The same batch of roasted coffee was used for the entire experiment.
Equipment used:
La Marzocco (LM) GS/3 MP (mechanical paddle), single group fitted with 0.6mm restrictor and a naked portafilter with the 20g VST basket filter, set at 9 bar water pressure (verified with a Scace II); brewing temperature 92.5 degrees C regulated with a PID on board
Water filter used for the experiment was Brita Purity C150 Quell ST
Victoria Arduino Mythos One coffee grinder
Pen and paper to record values
Pair of scissors
Infra red thermometer
10 (for each condition) empty ramequin bowl for measuring the mass of the shot
10 (for each each condition) ceramic/glass cups for TDS measurement
La Marzocco Flat (but rounded edge) 58.0 mm (comes with some commercial La Marzocco machines)
Atago PAL-COFFEE refractometer
VST LAB III 4th Generation refractometer
Distilled water
Alcohol pads
PipetteServiettes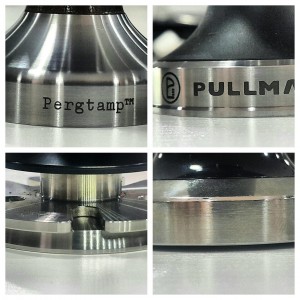 Experiment was carried out over 5 hours. The conditions with the grinder and espresso machine were constant for all conditions. Four testing stations were set up (80 ceramic bowls needed for the whole experiment) in order to avoid any disruption to the experiment's routine. The grinder blades were warmed up by grinding 500g of coffee beans. The room temperature was controlled with air conditioning at approximately 22 degrees Celsius for the duration of the experiment. Multiple experimenters were used for the data collection and analysis, with only tracking labels used for data recording and analysis. Physical walls were placed between the experimenter preparing the shots and the experimenter recording the TDS. Labels were matched via a key to reveal which tamper went with each set of data only after all analyses were complete.
A brew ratio of 1g coffee to 2g brew weight was used (i.e., 20g dose for 40g final beverage mass). Because TDS is most strongly correlated with quantity of beverage, shots were all pulled to a consistent weight. Time to reach this weight was recorded, giving us a metric of flow rate (weight/time). The grinder was dialed in using 15 kg tamping pressure with a target of 40g final beverage mass in around 40 seconds. No grind adjustments were made for the entirety of the experiment. The pre-experiment dialing in of the grinder was performed using the Pergtamp. Included here are videos from shots with the other tampers used (BigStep, Eazytamp, and La Marzocco).
Four different tampers were used, with 10 shots per each tamper. One shot with each tamper was performed in a round (10 total rounds). Each shot was tamped in a consistent manner. Order of tamper used per round was randomized, as was the order of the sample being placed into the refractometer. Tamp levelness was checked using a micron measurement tool as demonstrated here. By placing the measurement probe to the coffee bed surface and moving it within the basket, we were able to assess any possible pitch or roll (i.e., unlevelness).
Zeroing preparation of the refractometers was performed identically for all conditions.
Prior to all measurements, the refractometers were set at room temperature together with the distilled water (a common practice we use).
All refractometers were zeroed and cleaned prior to the coffee extraction.
The water temperature for zeroing was between 15-30°C (as recommended by VST).
Filtering procedure:
For each shot, we allowed the espresso to cool for 1 minute and the sample was stirred for 5 seconds.
For each shot, the coffee crema was skimmed with a clean spoon prior to every reading.
For each espresso, 4ml of espresso was drawn up using a pipette and slowly dispensing it into a clean ceramic cup. The sample was then given approximately 45 seconds to cool down. Filters were not used for this experiment, as our other experiment demonstrated that they do not have a significant effect on the devices' TDS readings for espresso.
Sampling procedure:
With a clean pipette, we drew a sample large enough to dispense into both refractometers. This sample was transferred to a clean, dry cup and allowed to cool for an additional 30 seconds (the temperature of the sample was checked with the infra-red thermometer). Another fresh pipette was then used to siphon the cooled espresso sample and transfer it to the refractometer wells. The coffee sample was allowed 25 seconds to equilibrate in the well of the refractometer before recording.
Results
A mixed design analysis approach was used on the data from this study (using R 3.1.1). As per our usual protocols, data was analyzed in a de-identified manner (using labels matched to a key after all analyses were completed) by an individual not involved in the data collection. Ten samples per tamper were measured (40 total measurements for each refractometer). The two between variables were device (Atago, VST Lab III) and tamper (La Marzocco, BigStep, Pergtamp, and Eazytamp). Order of the samples being placed on the refractometers was pseudo-randomised to ensure a balanced order, as was order tampers were used in a single round.
Data was first assessed to ensure it does not violate assumptions for an analysis of variance (ANOVA) or multiple linear regression analysis. Further, brew weights between tamper conditions were checked to ensure they did not vary significantly via t-tests (p ≥ 0.11 for all). An initial two-way ANOVA was run to determine the impact of tamper and refractometer device on TDS, as well as assess for any systematic interaction effects. Tamper was shown to have a significant impact on TDS (F(3,72) = 6.40, p = 0.00) but refractometer was not (p = 0.91), nor was there a significant interaction between device and tamper (p = 0.99). TDS measurements were then collapsed into a single variable for further analyses.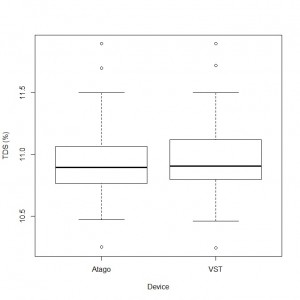 Due to their correlation (high collinearity), brew weight and time were centered, as described in our previous post. A hierarchical multiple regression was then run using one to four predictors (brew weight, brew time, round, and tamper, respectively) for TDS. The only significant predictor was that of tamper, so a one-way ANOVA was performed between tamper and TDS (F(3,36) = 3.24, p = 0.03). Post-hoc contrasts revealed the only significant tamper condition was that of the La Marzocco, with a significantly reduced TDS.
Extraction yield, which provides a control for brew weight as it is calculated based in part with the variable, was then compared. We remind you to not concern yourself too much with the absolute numbers shown here, as we could easily use another formula and alter all values around 1.2 or more (through the manipulation of assumed variable values). For the purposes here, all values were held constant except for those we quantified (i.e., dose, brew weight, TDS). An ANOVA of tamper and extraction yield revealed a significant effect (F(3,36) = 3.69, p = 0.02). Average extraction yield values for each tamper were: 21.5% +/- 0.46 (La Marzocco), 22.3% +/- 0.80 (Eazytamp), 22.1% +/- 0.48 (Pergtamp), and 22.0% +/- 0.37 (BigStep). Three of the tampers led to significantly greater extraction yield compared to the La Marzocco (all p ≤ 0.01). The three tampers (Eazytamp, Pergtamp, BigStep) did not differ significantly from each other (all p ≥ 0.19). We then plotted the extraction yield values (reminder, the only significant difference is a reduced EY with the La Marzocco tamper):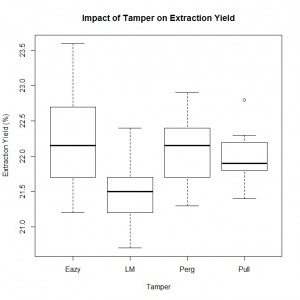 To explore these variables a bit more, we did a 3D scatterplot to examine the relationship between extraction yield, TDS, and brew weight. With just visual inspection, it would appear you can get a high extraction yield at a variety of brew weights (a great explanation on how these variables relate can be found here).
(Raw data can be downloaded in a tab delimited text file here. As always, while we offer the data for your personal use, we kindly ask that you send a message to socraticcoffee@gmail.com before posting or presenting it in any public forum and attach appropriate acknowledgement.)
Conclusions
Overall, the VST and Atago devices performed comparably–the readings from the different devices are statistically indistinguishable. Which tamper was used did have a significant impact on espresso TDS, with the La Marzocco tamper having significantly lower TDS readings. Two of the three tampers that had comparable TDS have slightly enlarged surfaces (BigStep and Pergtamp). The other, Eazytamp, has a lip which catches the top of the portafilter basket and ensures level and uniform compression of the coffee bed, but it maintains a 58.0 mm diameter surface, so we cannot attribute the results simply to larger diameter tamper base/head. [Edit: 08 Aug 15] One possibility is that the La Marzocco tamper base is not completely flat nor consisting of a sharp edge. [/Edit] Otherwise, we were not able to determine a relationship between a particular tamper and its influence on TDS (or subsequent extraction yield). The three tampers with a similar extraction yield had an average increase over the La Marzocco of 0.6 (i.e., similar three at 22.1% – LM at 21.5%). Individually, the average extraction yield increases over the La Marzocco tamper were 0.8 (Eazytamper), 0.6 (Pergtamp), and 0.5 (BigStep); again, though, these three tampers did not differ significantly from one another, only from the La Marzocco.
It may be that other variables not quantified here were significantly affected. Our measurements captured the total dissolved solids content of the shot, as well as a rate metric (brew weight/total brew time), but it is possible that tamper type affects aspects of the extraction that we did not assess (e.g., characteristics of particular compound extraction such as lipids).
References
King, WD. (2008). The physics of a stove-top espresso machine. Am J Phys. 76 (6), 558.
Mateus, M., Rouvet, M. (2007). Interactions of water with roasted and ground coffee in the wetting process investigated by a combination of physical determinations. J Agric Chem, 55, 2979-2984.
Navarini, L., Nobile, E., Pinto, F., Scheri, A., Suggi-liverani, F. (2009). Experimental investigation of steam pressure coffee extraction in a stove-top coffee maker. Appli Therm Eng, 29 (5-6), 998-1004.